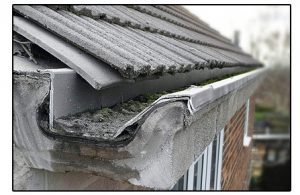 Sometimes surveyors find Finlock concrete guttering that was cast at the time of the original construction in Derby, Nottingham, Leicester and many other parts of the country. The system comprises an integrated concrete gutter, lintel, and eaves that fit typically 200mm to 250mm width which sit on the cavity closer and over sail the outer face of the walls, forming a gutter. Our surveyors find that many defects can occur. Typically, the waterproof coating that lines the concrete gutters often this needs to be repaired or replaced. The guttering system is also prone to blockage as the gutters are laid level and often need to be cleared. There is normally an inadequate outlet that can be formed from an asbestos cement material. Any work to this part of the property should therefore be carried out by a contractor qualified in asbestos awareness. There are also defects that may appear when the windows are replaced as often there is inadequate support. Consequently, damage to the joints of the concrete gutters occurs and dampness will develop on the top section of the wall above the windows. You should therefore budget for replacing the Finlock fittings as soon as possible.
Want more information?
We'll call you At a time thaT suits you.