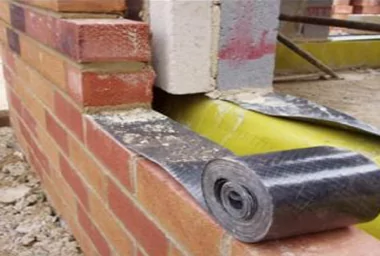 Whilst surveying properties daily, a common defect we come across is a Low or bridged DPC's
What is a DPC?
A DPC is a layer of damp proofing material laid between bricks to help prevent moisture rising through porous elements of a buildings via capillary action.
By The Public Health Act 1875 it is now a requirement of the Building Regulations (Approved Document C) that walls should resist the passage of moisture.  This is normally done by installing a DPC to the lower part of a building whilst it is being constructed.
DPC's first came into use towards the end of the Victorian period where materials such as tar and sand, or hessian soaked in tar were commonly used. On more prestigious buildings lead and copper were often employed. It is also common to find buildings with two or three courses of engineering bricks or layers of slate providing a barrier to rising damp. The DPC should be well clear of the ground by at least 150mm to stop splashing wetting the brickwork above and should ideally be a flexible material to allow for slight differential movement. Slate DPCs often fail due to cracking as the building settled slightly during its life. In modern buildings it is also important to ensure that there is a good joint between the DPC in the wall and the damp proofing membrane (DPM), which is there to prevent rising damp through the floor. It is also essential that the DPC does not cross the cavity as this will provide a path to the inside skin for any water running down the cavity.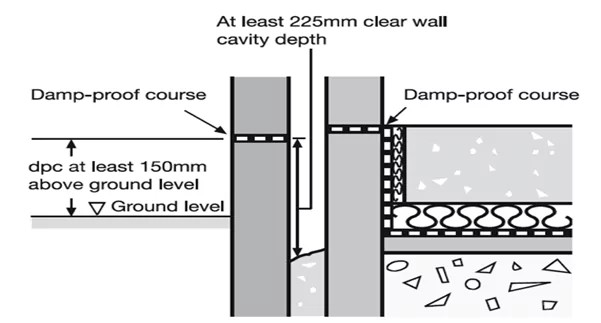 A damp-proof course may also be required:
In masonry walls below a coping, where the coping is constructed from a material that is not impervious to water.
In the joints between walls and door and window frames.
In suspended timber ground floors between the timber and materials that can carry moisture from the ground.
Standards for damp-proof courses are provided in BS 8215:1991 Code of practice for design and installation of damp-proof courses in masonry construction.
In older buildings which may not have a DPC, it is common to see chemical injection DPC inserted retrospectively.
A series of holes are drilled into the wall at low level, the number and pattern of which is determined by the construction of the wall and its thickness. High and low pressure injection can then used to introduce a water-repellent chemical fluid that penetrates across the wall and between the holes forming a continuous barrier. We often find this type of DPC to be ineffective but often this type of work comes with a guarantee. This method doesn't work in stone or flint walls.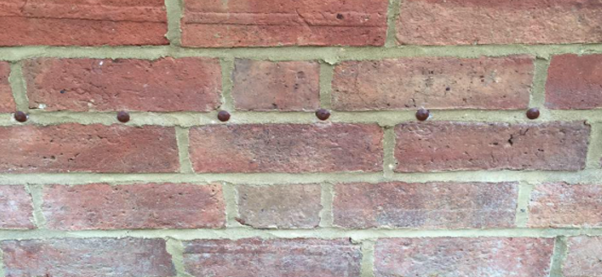 I remember buying my first house, it was a Victorian 3 bed mid terrace I was only 19 and there was a retention on the mortgage due to a surveyor finding internal dampness, as a result I was made to have a chemical DPC installed. I also remembering it costing a significant amount of money which left me using camping chairs in the living room and a mattress on the floor for sleeping on for some time after, as it was an expense I hadn't budgeted for.
less common but also ineffective retrospective DPCs include the Holland Damp proofing system and the Schrijver, which are basically pots or tubes which are installed to try and help evaporate water from the wall.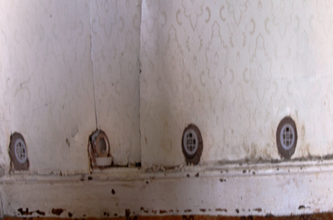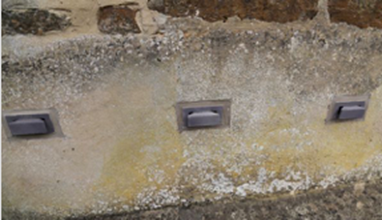 Occasionally we also come across Electro Osmosis DPCs
One of these damp-proofing methods was sold and installed by Rentokil in the 1970's, an electro-osmotic system that used a copper wire embedded in the wall and then an electrical charge was put through it in the theory the water would be dispersed. It never succeeded although many were installed and can still be found today.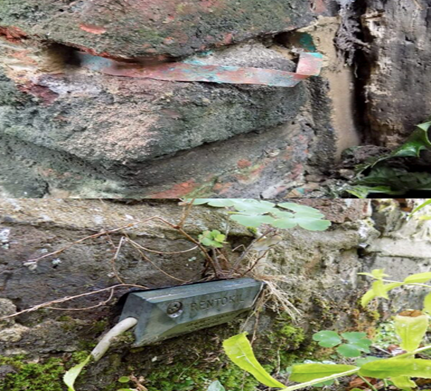 The most common ways in which we see DPCs being bridged are;
New Driveways
New patios
Timber decking
Flower beds
Render
Impervious masonry paint
Often owners of the property are trying to make improvements without understanding the potential damp issues they are causing. Instead of the old surfaces being removed it is very common for the new surface to be laid on top of the old one, which reduces the height of the DPC, potentially bridging the DPC. This can be very frustrating for the owner, especially if they have spent several thousands of pounds making these alterations. Ideally the ground height would be reduced. In many of these cases this is not a practical solution so we would recommend either having a French drain or box drain gully installed at the base of the walls to help the water evaporate.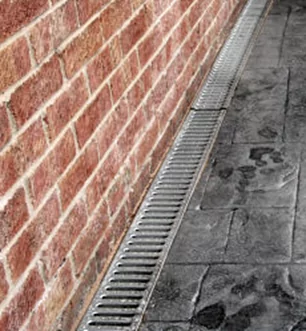 Unfortunately, where cement render or impervious masonry paint has been used on solid brick walls the only real solution is to have it removed.
By Tom Barnes – AssocRICS.