A stitch in time to save nine – an interesting case of lintel failure. At Gold Crest Surveyors we are experienced in surveying Victorian terraces. Victorian terraces have many attractive features, and there are some common defects that a surveyor would expect to find in nearly everyone, some of these including; damp to the original back wall, removed chimney breasts from ground and first floor rooms, blocked vents to the subfloor void, perished wall plaster, an injected damp proof course, and corrosion to rainwater gutters and soil pipes. What is perhaps less commonly found is lintel failure.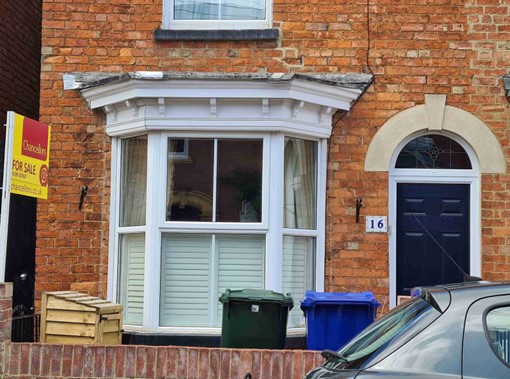 Bay windows were extremely popular in the late 18th/ early 19th century.  They offered a more interesting appearance, a good view of the street and they let in additional light.  The windows within the bay were built with timber or concrete columns between the windows which acted to support the roof or floor above.  Fast forward to modern times and windows have often been replaced with PVC casement units.  These are sometimes fitted incorrectly, lacking the support of the original timber windows, for the structure above.  We recently inspected a property where this was found to be exactly the case.  We observed previously repaired cracking above the bay window, and further unrepaired significant cracking to the window above. 
The roof to the bay window would have originally been sheet lead, but has been patched up over the years and has been leaking.  There were two key issues; the first is that the new PVC windows have been fitted too far back, therefore offering inadequate support for the timber and roof above.  This has caused the timber roof structure to drop and split at the front, which in turn has caused further distortion to the supported masonry above.  The second issue is that the leaking roof to the bay window will have caused the timber lintel to the rear of the bay structure to become saturated.  Wet timber leads to a great deal of other issues including wet rot, dry rot and wood boring insect.  The wet timber lintel has caused yet further distortion and damage to the masonry above, and significant cracking can be seen to either corner of the first floor window, with the concrete lintel "tilted".
The structure of the front wall will now need some significant repairs and the bay will need to be at least partially replaced. This is a good example of where a smaller defect (the leaking flashings to the roof) can lead to a much bigger, more costly defect if it is not addressed urgently. Leaking roofs and sagging rainwater gutters might seem trivial, but they can end up costing thousands if not kept in order!