Many homes that we survey are found to have elevated levels of moisture, causing
condensation and dampness and we often recommend installing a PIV, or Positive Input
Ventilation system. But what are they and how do they work?
Positive input ventilation (PIV) is a low-energy, whole home ventilation method. It looks to
protect homeowners from the many harmful indoor air pollutants that can enter and
remain within a home and lead to long-term health problems if not suitably resolved. They
help you to filter your home and keep the air fresh.
What is Positive Input Ventilation?
PIV is a highly effective cure for condensation, dampness and associated problems within
residential properties. It pushes harmful air out of the home and replaces it with fresh,
filtered air.
How does Positive Input Ventilation work?
PIV works by drawing fresh air in through the unit, usually installed in your loft. This air
is then diffused and filtered at ceiling level, creating a positive pressure within the home.
This forces air pollutants out through the natural gaps found in both old and new properties.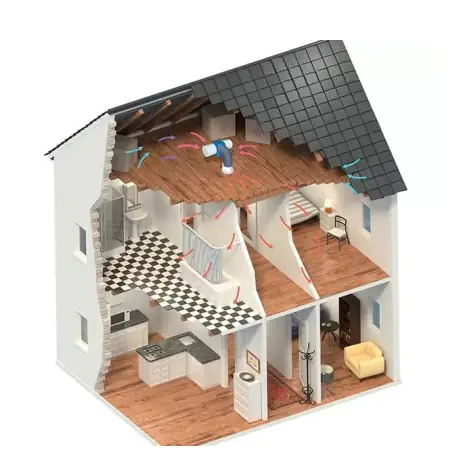 Does a PIV unit cure damp and condensation?
It's estimated that one in five houses in the UK is poorly ventilated, making condensation a
major cause of dampness in the home. Homes are at risk of steaming windows, mould
growth and poor indoor air quality. The average family produces up to 15 litres of water
daily through simple everyday tasks such as cooking, washing, bathing and drying clothes
indoors.
Even new and modern homes are at risk of condensation. Well-insulated homes with double glazing or insulation can trap moist air inside the house. When it comes to curing damp and
condensation, PIV is the most cost-effective whole home system in the market today. That's
why it's trusted by so many homeowners across the UK
When would you recommend using a PIV unit?
Positive input ventilation is a cost-effective, and simple solution to ensure clean air flows
freely throughout your home, increasing indoor air quality. PIV units are used for a few
different reasons, including stagnant and humid air. The installation of PIV units is generally
recommended if you're not looking to carry out a full renovation of your home yet require
ventilation throughout the dwelling without removing any walls.
How Much Does a Positive Input Ventilation System Cost?
On average, Positive Input Ventilation systems cost between £750 – £1,000 including
installation. However, there are some higher cost models available with improved
performance.
Once installed, the running costs are relatively low as the system has low energy
requirements. You can expect running a PIV unit to cost £1.00-£2.00 in electricity a day.