The Department for Business Enterprise and Industrial Strategy (BEIS) launched The Energy Companies Obligation (ECO) in 2013 with three principal aims: The Carbon Emissions Reduction Obligation (CERO), The Carbon Saving Community Obligation (CSCO) and the Home Heating Cost Reduction Obligation (HHCRO).
ECO incubated significant Cavity Wall Insulation (CWI) start-up companies/providers across the UK, with installers receiving payments from Energy Companies based on theoretical carbon savings, using the Energy Performance Certificate as a baseline or in some instances, an external wall U-value, fabric thermal efficiency, calculation. The payments also varied depending on the type of cavity e.g. hard to treat and non-standard cavity construction.
Some installers lacked experience, and combined with the rush to maximize income, during the relatively short phase 1 and 2 ECO windows, inevitably some installations did not meet the standards required for effective installation, resulting in CWI failure.
There are several external clues, which indicate installation has not met the standards stipulated for retrofit CWI installation including: spalled and perished external brick, open jointed mortar and cavity wall vents sealed with silicon and not replaced with sleeved vents. Failure to prevent water penetration can result in the fill material becoming addled with damp.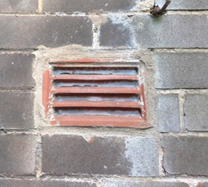 Less obvious indications CWI has not been correctly installed include: neglecting to sweep out the cavity before installation and not installing a cavity barrier and the base of the wall above the DPC and at the head of the wall in the roof void.
The images below are from two properties I have recently surveyed for Home Buyers reports where inspection of the roof void revealed that a cavity barrier had not been installed at the head of the wall and insulation fill material was observed spilling from the head of the cavity.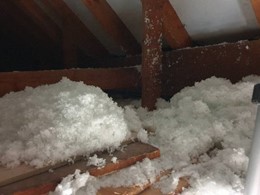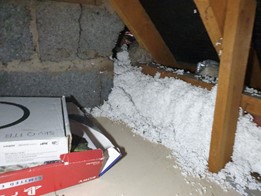 Failure to seal the cavity can result in voids within the fill material and cold spots on the wall. As internal temperature rises, humidity increases. When the internal temperature falls, the latent moisture in the air settles on cold spots created by the voids, which can result in condensation, damp and black mould on internal walls.
Measures to reduce heat loss from homes and reduce CO2 emissions is not without downsides, and there is an impact on indoor environment and air quality. Many problems with damp can be attributed to inadequate ventilation and internal air should be purged daily, particularly in the winter. Operating the heating from a thermostat retains heat within the building fabric thermal mass, meaning internal air temperature can be purged even in winter without significant heat loss. The importance of indoor air quality has never been more apparent than over the course of the covid pandemic.  
By Andrew Maw – MRICS, BSc (Hons)