Some weeks ago, I was asked to carry out a survey inspection on a mid-terrace house built at the end of the 19th century. The property was advertised as follows:
This fantastic, recently refurbished three bed house is located in E10. With green spaces right on the doorstep. The house is simply stunning in its interior: the newly installed windows, flooring and carpets plus the high-end finish to the kitchen, bathroom and WC make it feel fresh and modern – yet also give it undertones of smart, classic styles, emphasised by the old-school radiators and vintage-styled ceiling roses. This three bedroom property would make the ideal family home, particularly given its wonderful location.
Upon my survey inspection, yes, internal the decorations were fine, but on entering the property I noticed that the chimney breast and fireplace from the reception room had been removed. I wasn't surprised as this is one of the most common internal alterations carried out in old houses to free up space in the rooms. I took note of this to make sure to check how the chimney stack above the roof was supported in the roof space.
Despite all the time and money spent in improving the property, the vendors did not provide a support for the remaining brick structure visible in the roof space. As visible in the next photo, some of the unsupported bricks have started to fall and the whole structure could collapse and fall in the bedroom below anytime. The weight of brick masonry can be between 1500kg to 200kg per cubic meter, depending on the density of the bricks. You would not like to take the risk of sleeping in this bedroom!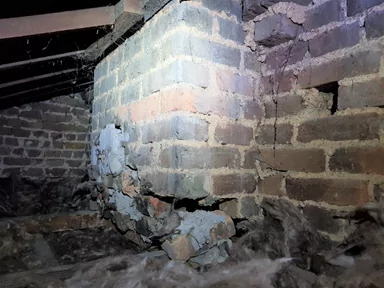 The removal of a chimney breast is a material alteration to the structure of a building and therefore building regulations apply to confirm that the structure continues to be safe after the works. Where a chimney breast has been removed and provided with a support, we always recommend buyers to obtain documentary evidence that the works have been signed off by the Local Authority Building Control, usually in the form of a valid Completion Certificate. If the existing support is not covered by a completion certificate (or no support has been install at all to the remaining brickwork as is the case in this property), it is necessary to obtain structural calculations by a structural engineer that justify the size and design of the support and obtain the approval from the Local Authority. Where the removed chimney breast is on a party wall, the necessary notices required under the Party Wall Act need to be served on the adjoining owner.
Ramon Burgos