In February 2021 I was flattered to be asked to participate in a new mentoring project, helping SAVA students to get a flavour of 'real world' residential surveying. It has been an interesting journey so far and I thought I'd make this blog about some of the experience we've had together.
Surveying in the contemporary world is, relatively, an isolated experience, either key collection for vacant properties or in homes where the vendor(s) is/are nervous about what might be uncovered and, although only occasionally in my experience, nervousness about covid. The most isolating covid experience has, perhaps, been key collection, which prior to covid, was an opportunity to glean information from local agents, which covid has prevented.
Mentoring has been a welcome departure from that isolation. Every mentee I have worked with has been insightful, diligent and engaging. They all have interesting backgrounds from existing property related work either Estate Agency or Construction to a Policeman and former British Army tank crew.
We have had some interesting experiences together; with Victoria in Maghull, dashing outside following a downpour looking to trace the source of several areas of penetrating damp in what otherwise appeared to be a very nice bungalow, and at the same property, discovering something that could have been from a 'Criminal Minds' episode. A large roof void with an access door through the garage where no-one would be able to hear someone who'd been kidnapped, cries for help, again with Victoria. Gingerly descending stairs to a Salford cellar, hoping the timber wasn't riddled with rot and woodworm, to discover there was a fair amount of both, only to find that we then had to navigate a large amount of stored items to inspect the consumer unit and gas meter. In Salford with Victoria, handing her the keys to a ground floor maisonette, whilst I found somewhere to park. Having been informed by the agents, there was no alarm, only to discover there was and it was deafening. With Barry in North Manchester, being careful to avoid falling through an exceedingly large roof void when identifying woodworm and dry rot. With Mark, discovering the remnants of a Marijuana farm in a Wigan attic. With Jonathan, being chased out of an overgrown garden in Wallasey by bees, ironically we felt more at risk inside the very large, fairly dilapidated house. With Alisanne, in Speke, encountering a bikini clad sunbather whilst looking for Japanese Knotweed, and again with Alisanne, in Everton, observing a narcotics arrest.
Pictures below: Victoria, Jonathan and Barry getting some practice with the Gold Crest Surveying Application.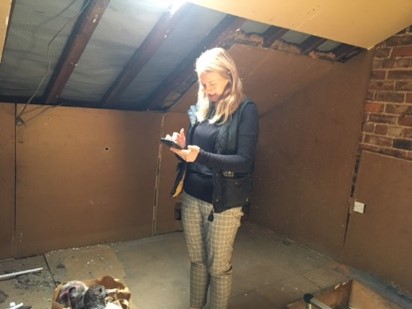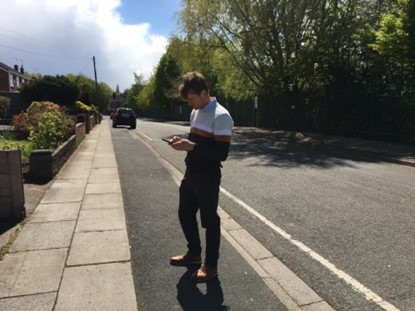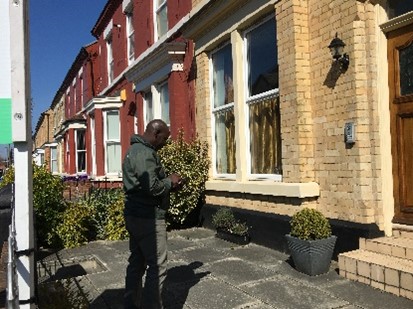 There is, perhaps, an assumption that learning moves in one direction from the mentor to the mentee. It's been my experience that learning is very much a two-way experience with the mentor learning just as much, and perhaps, on occasion, more than the mentee, either indirectly or directly.
Examples of indirect learning include, in demonstrating how to populate the Gold Crest Building Survey and Home-Buyer Report App, evolving my own approach to surveys, and populating the Gold Crest App; adopting a more systematic approach to improve defect descriptions. An example of the latter might be, if possible, inspecting the roof void first, to inform standard base paragraph choices; for example, possible perished felt at the eaves, or damp readings to the battens, perhaps indicating corroded nail fastenings and thus slipped slates.
Under ideal circumstances, it has become my preference, having inspected the roof void, to assess Services: electricity, gas, heating and hot water. I have found the report, generated under the App, in my opinion, reads better, if all aspects of services appear in a single section, for example, consumer unit type, downlights or unprotected light tubes, shower fittings etc
Since working with mentees and weighing their feedback on standard wording base paragraphs, I have begun to blend some to the standard paragraphs, to better convey information, including switching between Building Surveys and Home-Buyers Reports, where the wording of a standard paragraph better fits the property. In demonstrating how easily that can be done, I have improved my own skills, in navigating the App.
There has also been direct learning. SAVA students, whom as part of the curriculum, tend to benefit from the most up-to-date information on regulation, which may not, otherwise be gained from CPD, for example Building Regulations, with regards to adequate escape in the event of fire.
I have also learned of differing colloquial language for property features and defect fixes, and I'm aware that colleagues, also involved in the mentoring programme, have had interesting discussions with mentees, particularly over the current hot topic of External Wall Cladding.
Pictures below: Working with Jackie on a Building Survey, at a very unusual bespoke home.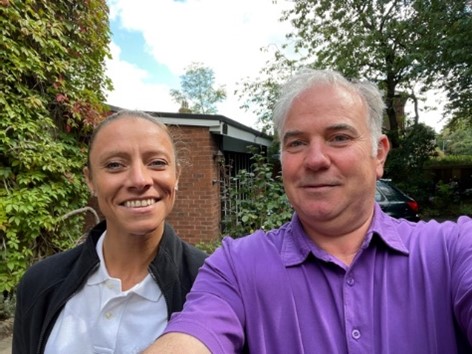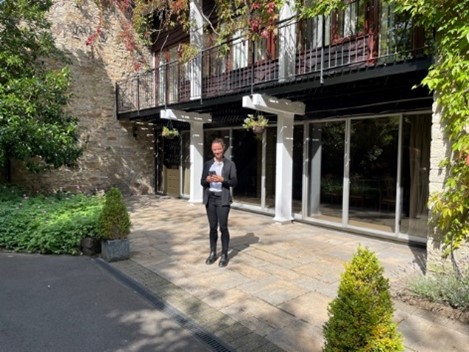 Working with all the mentees; Alisanne, Barry, Chris, Gabriel, Jackie, Jonathan, Mark, Martin, Phil, Suhail and Victoria, has been valuable learning experience, for me and rewarding that Victoria, Mark, Gabriel and Jonathan have already joined Gold Crest, with the others scheduled to join the team over the coming weeks and months.
Each mentee has had a different level of experience, but all have been enthusiastic and fully engaged in the process. I hope they will each enjoy working with the team at Gold Crest and, if covid is ever over, seeing them all, at get togethers, whether that be climbing Snowdon or at the Christmas Party.
Picture below: Final mentoring meet, at a property backing onto the Leeds – Liverpool Canal in Burscough Bridge, with Alisanne, before she joins the team in September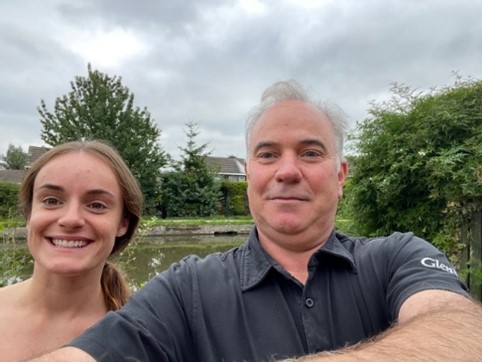 By Andrew Maw – MRICS, BSc (Hons).