In an ever-changing world, it's the duty of every industry to understand the importance of a diverse, equal, and inclusive workforce. Businesses need to be able to reflect the diversity of the world around them, and chartered surveyors are no exception. That's why we're so excited that Goldcrest's first guest post is from Sybil Taunton.
Sybil is the recently appointed Head of Diversity, Equity and Inclusion for the Royal Institution of Chartered Surveyors (RICS), where she is responsible for developing and executing a robust DEI strategy for internal staff and roughly 134,000 surveying professionals globally. Prior to taking this role, Sybil accrued more than 13 years of experience in mass communication and public relations. Most notably, 12 of those years were spent serving in the United States Air Force where she specialised in public relations and crisis communications. She is also a volunteer Communications Director for the largest and oldest non-profit organisation in the U.S. dedicated to supporting LGBTQ+ military members and Veterans, the Modern Military Association of America.
Throughout her career, Sybil dedicated herself to promoting and advancing inclusion and accessibility initiatives within the various organisations she worked in. Wanting to make more of an impact in driving positive change, she made the decision to change career paths to focus solely on DEI moving forward.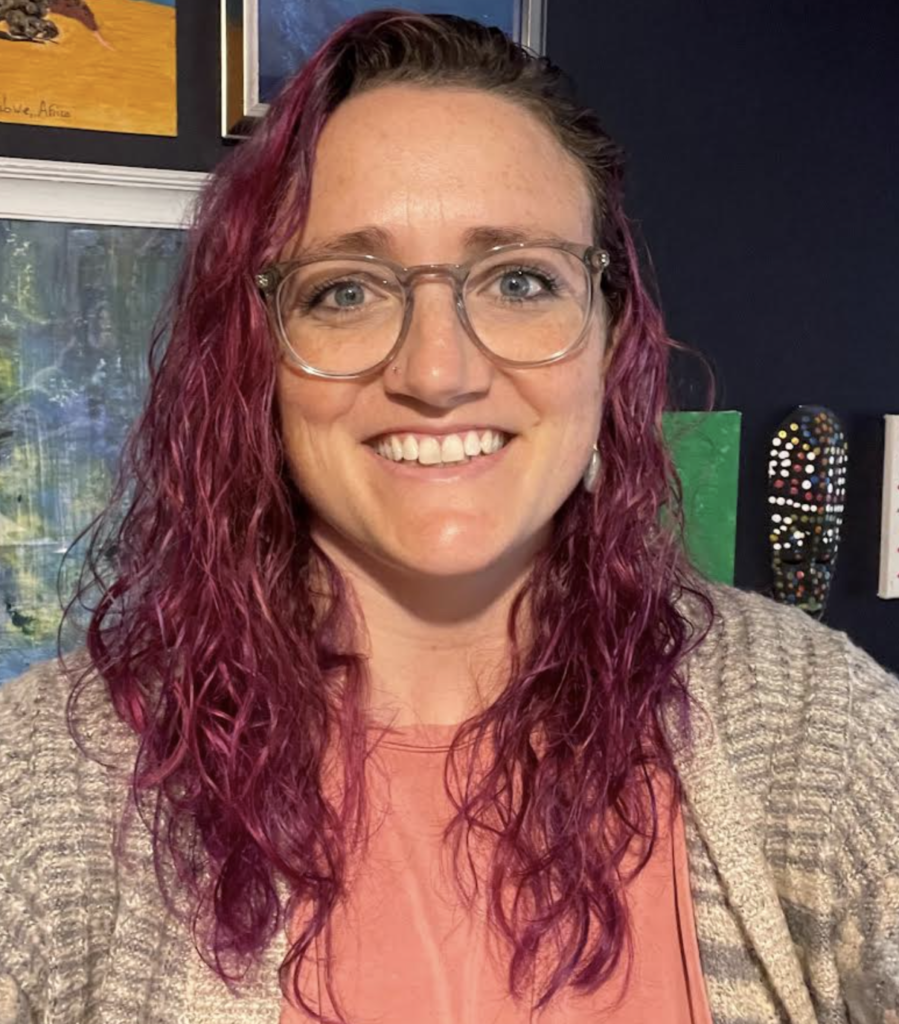 We sat down with Sybil to discuss her role, changes in the surveying industry, and her hopes for the future.
Could you tell us about what your role as Head of Diversity, Equity & Inclusion entails?
I am responsible for developing and delivering a Diversity, Equity and Inclusion strategy for RICS that improves accessibility and representation, and shapes a stronger culture of inclusion and respect inside our organisation and throughout our global membership.
What inspired you to become involved with diversity and inclusion efforts within RICS?
I first joined the RICS staff as a Global Communications Lead in Spring of 2021 and I was keen to apply for the DEI role because I spent a year delivering what we were saying as an organisation but not seeing a lot done to prioritise and back those words. I took on this role to be a part of the solution and start pushing for meaningful and deliberate action.
When did your passion for diversity within the surveying industry begin?
Like so many others from marginalised communities, especially those with intersections that draw double, triple+ stigmas, just existing in the world and experiencing judgement, hate and blatant discrimination first-hand fuels my passion to influence change.
How has your role benefited the diversity and inclusion efforts within the surveying industry?
The creation of my role at the 'Head of' level, and the hiring of a Diversity Analyst, are already a benefit to the organisation and the membership because they show an elevation in priority for DEI efforts. Beyond that, it's early days but we have had some great events this year and a lot of really important discussions with our members that will certainly start driving more meaningful actions. One of the immediate priorities has been improving data collection and insights, and members will need to play an active role in helping us understand the make-up of the profession by sharing their demographic data with us moving forward.
Are there more diverse groups of people choosing surveying as a career path?
While I would love to shout an enthusiastic "yes!" to this question, the reality is that we don't have a solid data set showing us growth over time across demographics that can and should be measured. It's not just the RICS either, we aren't seeing solid data being published from organisations across the built environment, and we are working collectively with other professional bodies to change that.
Moving forward, we will start collecting more robust demographic data from RICS members and encourage our regulated firms to do the same so we can compare and share where progress is being made and where more work needs to be prioritised. It's absolutely vital that every individual does their part by sharing their data. Otherwise, we are left with gaps and an incomplete picture of the profession.
What I can say with confidence though, is that we are still lacking diverse representation at the most senior levels across the industry. We don't need data to tell us that because we can see it, and more must be done to improve progression pipelines and succession planning to ensure professionals from marginalised backgrounds have fair and equitable opportunities to rise to the top.
Do you think diversity and inclusion has improved within workplaces in recent years?
I think the willingness to talk about diversity, equity and inclusion has improved in recent years, but I can't say I've seen significant improvement in meaningful action. Some organisations are absolutely crushing it, don't get me wrong, but I would argue that many organisations in the built environment are still lagging quite far behind other industries who have been leading in this space for some time.
If you could make one change to the surveying industry right now what would it be?
I would make the surveying profession more accessible to more people. A piece of that is growing awareness that it even exists as a profession that's open and inclusive for all, but the other piece of that is removing more barriers to entry like restrictive degree options and requirements, internship/apprenticeship opportunities, etc.
What can surveying firms do right now to better support diversity & inclusion?
For senior leaders in firms, effective and meaningful DEI efforts start with you and you must prioritise an inclusive and equitable culture within your organisation and lead that from the front. Take an honest look and reflect on a few questions. Does our organisation, especially our senior leadership team, have sufficient representation and diversity of thought, background, culture, and experience? Do we have inclusive, accessible and equitable recruitment practices, development pipelines and internal policies in place to ensure we grow and retain that talent? Do we follow through on what we say we are doing? How are we measuring that?
Evaluating existing policies and recruitment processes and comparing them to the best practices that are out there for similar sized firms is a great starting place. For firms that aren't confident where to start, I highly recommend prioritising what budget you have available to hire an external consultant to get you going in the right direction. There are plenty out there, some even led by surveyors who know exactly what you're up against.
Culture change is hard, but every step forward matters.
And finally, what do you think the future looks like in terms of diversity within surveying?
I'm going to take the optimistic approach and say that the surveying profession will finally start to look like the communities it serves, at all levels, and I sincerely hope that isn't a distant future because we can't afford to wait any longer.