"Well of course not", I hear you say. I imagine the homeowner of the house in Christchurch, Dorset, would have had a similar response. However, they have made national news after a video of the gable wall collapsing, narrowly missing a passer-by, went viral. Check out the screenshot from the video below….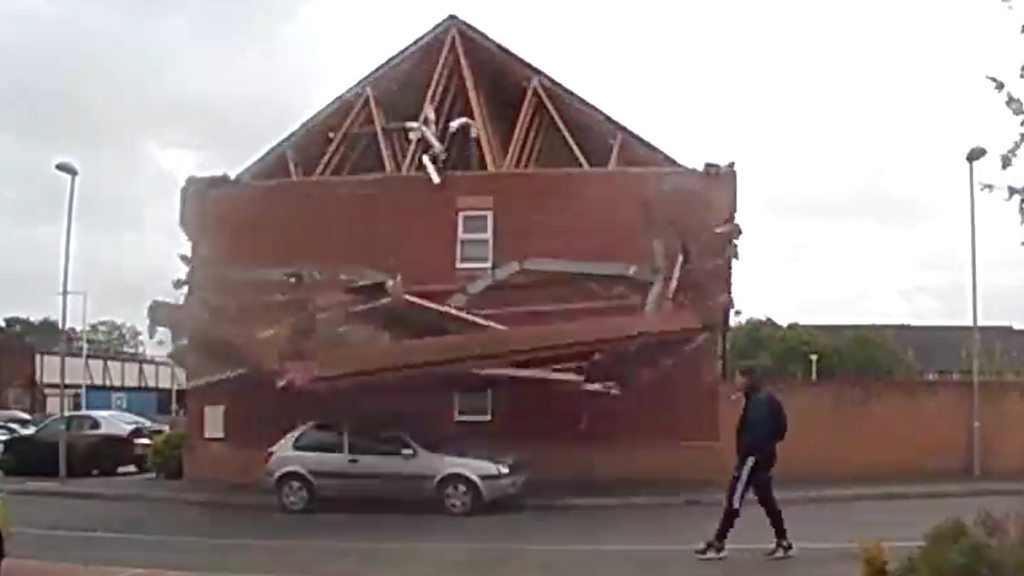 This leads me seamlessly into my pitch (surveyor pun) on the importance of a thorough survey, which in this instance would have identified the necessity of lateral restraint within a roof structure. This is a defect I frequently come across when carrying out surveys where builders do not accord with guidance offered in Building Regulations, NHBC Standards or other authoritative documents. Frequently, builders inadequately fix lateral restraint straps to trussed rafter sections rather than to noggings fitted tight between the trussed rafters as evident in the below picture.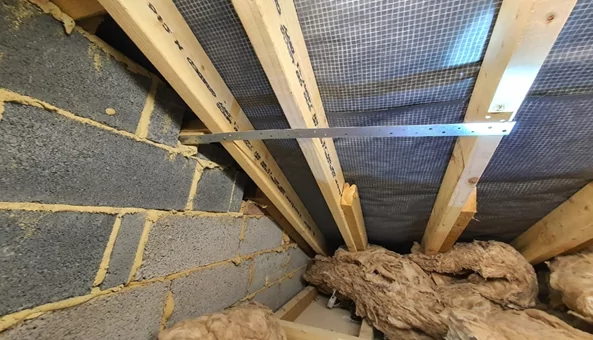 Technical guidance on Lateral Restraint Straps;
Restraint straps, should be used to provide stability to the gable walls, and be installed in accordance with their design.
⦁ Part A of the Building Regulations and BS8103 are that lateral restraint straps are provided at a maximum spacing of 2m.
⦁ Provided at rafter level on gable walls, where the property is of masonry construction (larger or separating walls may require restraint at ceiling level).
⦁ Protected against corrosion in accordance with BS EN 845-1 Clause 6.1.11 of sufficient length to be fixed to a minimum of three trusses.
⦁ Fixed with the downturn on a substantial piece of blockwork, preferably fitted over the centre of an uncut block in accordance with BS EN 1995-1-1.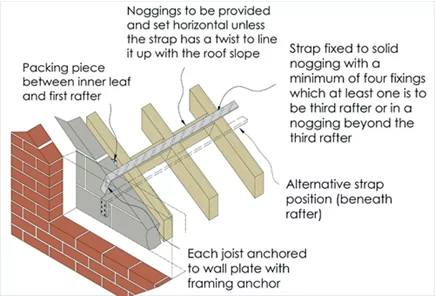 https://www.labcwarranty.co.uk/
Remedial works
⦁ Often a low cost repair that requires minimum intrusive works that can be retro fitted by a reputable joinery to the above technical standards.
One part of my job as a surveyor that I feel passionate about is supporting clients to process and understand the times technical information within these detailed surveys and reports. To us surveyors, terms such as lateral restraint and diagonal wind bracing within a trussed roof are second nature, however to clients they may well feel like another language. Often in positive feedback provided following the completion of surveys, the time taken to support a client to understand the contents of a survey is the quality they consistently appreciate. This is all part of the aftercare service we provide.
By Ricardo Chamberlain.