We are Multi Award Winning Building Surveyors, who provide detailed Level 3 Home Building Survey Reports.
A Building Survey (RICS Level 3) is suitable for all residential properties in almost any condition. 
The Building Survey Level 3 Report provides a full picture of the property's construction and condition. Guidance is also provided for remedial works and associated impending problems – including estimated costs of repair/improvement works.
Our Surveyors are highly trained in providing Level 3 Building Surveys. Our reports are detailed, but easy to understand. We also provide photographs of defects and estimated breakdown of costs in each section to help you in your negotiations.
A Building Survey Level 3 Home Survey is likely to be needed if the property is, for example: of unusual construction; is dilapidated or has been extensively altered; or where a major conversion or renovation is planned. It can be tailored to the client's individual requirements, so if requested, our surveyor's can give you a more in-depth explanation to certain aspects of a property that may concern you.  The report includes technical information on construction and materials as well as details of the whole range of defects – major to minor.
This service is broadly equivalent to RICS level 3, which is described on the RICS website at www.rics.org/homesurveys.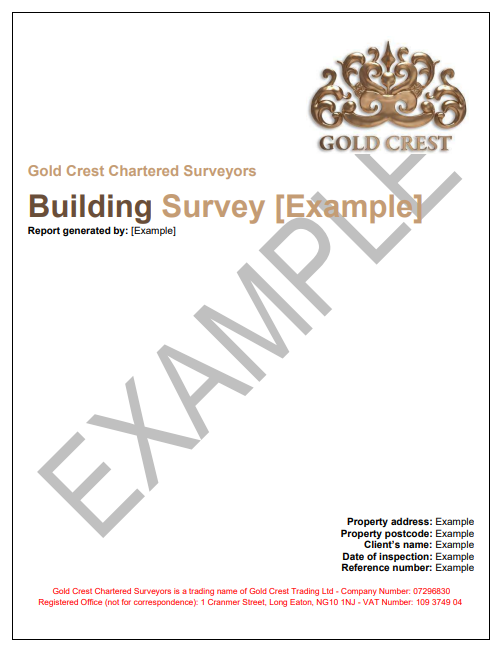 Gold Crest Building Survey Report Sample
We regularly save the Home Buyer Ten's of Thousands of pounds by revealing defects that are not easy to see with an untrained eye.
What does our Level 3 Building Survey include?
A description of all of the elements of the building
An overall opinion of the Building's Condition
A detailed breakdown of each Building Element's condition
Photographs in each section
Recommendations for who to commission for any repair work or further testing
A breakdown of estimated costs
Legal Matters that your Legal Advisor should be aware of
Hazards that could affect your health and/or the building
Energy saving recommendations
We check the EPC (Energy Performance Certificate) to ensure the property has been properly rated
You can get an instant quote below or c
all 020 7127 9545 to book, or for free advice.