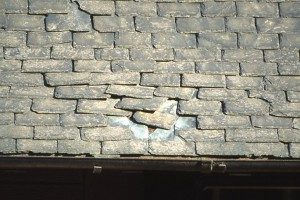 Our highly experienced surveyors will use binoculars where appropriate to aid their inspection of roof coverings.
Many defects can affect the roof of a property and more often than not this is the most expensive part of the property to repair in comparison to other issues. The largest cost can be incurred when the roof requires completely re-covering. Our surveyors usually find that most Victorian roofs are now coming towards the end of their useful lives. This happens because the nails used at the time of the original installation to fix the slates were not galvanised and they have corroded over time and this is what is known as 'nail sickness'. When this happens, slates begin to slip, exposing the rafters beneath, which can cause rot to timbers and damage to the ceilings beneath. At this point, it is usually recommended that the roof is completely re-covered due to the fact that scaffolding will usually be required and therfore it will be more cost-effective to completely re-cover the roof all in one go.
Surveyors also usually find that hip and ridge tiles require re-bedding in fresh cement mortar. These tiles should not be simply re-pointed, this will not prevent them from falling off in high winds. The old cement should be cleared away from beneath the tiles to ensure a good key for each tile.
Flat roofs have a significantly short lifespan, especially when covered with built-up bitumen type felt. It is therefore sometimes found that otherwise sound looking flat roofs leak within a few months of moving into a property. Therefore, provision should be made for re-covering flat roofs.
Want more information?
We'll call you At a time thaT suits you.