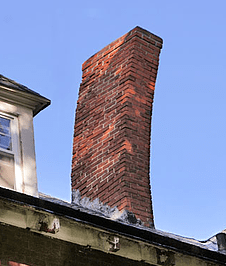 This is an extremely poor chimney that should be rebuilt as soon as possible.
Our surveyors find that chimney stacks can suffer from many types of defects due to the amount of exposure they receive from elements. Continuous stress from the weather can make older chimneys lean, which of course can mean the occupant's safety is at risk. A certain degree of lean can be acceptable but eventually, most taller chimneys will require partial or complete reconstruction.
Surveyors find other defects can pose less risk to the occupants but can be quite serious for the property, such as ripped or dislodged flashing. This is a common occurrence, especially in older properties and can cause rot to roofing timbers and damage to the ceilings beneath.
Significantly perished brickwork should also be replaced to help maintain the structure of the chimney. Repointing of solid brick walls, including chimneys of the property, should be carried out with a lime mortar and not cement to allow the masonry to breathe and help prevent them from perishing easily. The joints should be raked out to a depth of 2cm prior to any work being carried out, to create a good key for the new mortar.
Open chimney pots should have capping vents installed to help prevent rainwater penetration. It is important to have chimney cowls installed to open pots to prevent birds from becoming trapped within the flue and damp penetration internally. Blocked flues can cause lethal gases to build up within the home and therefore this work should be carried out by a registered engineer.
All works to properties above the first floor now require the erection of scaffolding to help prevent deaths from falling from a height.
Our surveyors are trained to spot these defects and if appropriate, will use binoculars to help aid their inspection.
Want more information?
We'll call you At a time thaT suits you.