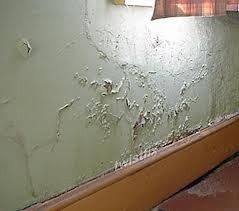 Surveyors often find dampness affecting a property, particularly in older buildings. In fact, in many older buildings, dampness is extremely difficult to completely eradicate but it can be managed if the correct procedures are in place. Many companies will inject walls with chemicals, which we have found, in most circumstances, to be ineffective. Our surveyors have found that putting remedial action in place such as striping non-breathable gypsum plaster and re-plastering with a lime plaster will help to release moisture from the wall; although, cement pointing should also be chopped out and replaced with a lime-based mortar. Cement render can be one of the most damaging materials to add to a wall and is ironically sometimes added as a 'protective measure'. Moisture often becomes trapped behind the surface and this will help to accelerate the deterioration of the masonry beneath. Of course, breathable decorative materials should be used, such as mineral paint or limewash. Increasing ventilation in the home can help reduce condensation, which can be one of the most common causes of dampness. When replacing windows, trickle ventilation could be installed. If the windows are not to be replaced, you should consider having ventilation increased, with extractor fans that control humidity, in the bathroom and kitchen. Our surveyors often find that floor levels externally are too high, thus allowing surface water and moisture in the ground to soak the walls, creating dampness and rotting internal joinery. A lack of ventilation for subfloor voids is also a common cause of dampness and defective timber. Most older properties were constructed with much lower levels of ventilation than modern buildings.
Want more information?
We'll call you At a time thaT suits you.