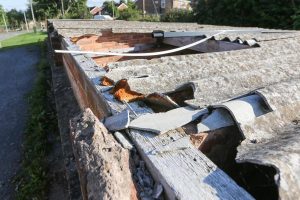 Asbestos is found by most surveyors in London and all over the country almost every day. Asbestos was a common material used in most properties before 1980 and was used in some materials right up until the year 2000. Asbestos is not normally a problem unless it is disturbed and the substance becomes airborne. You will however obviously disturb the asbestos if some work is required to the material and therefore it is good to know whereabouts asbestos is in your property. Our surveyors will be able to alert you to the location of the different types of asbestos in your prospective property and whether or not maintenance is required. When work is required you should use a contractor that is qualified in asbestos awareness as they can take precautions for their own safety and that of the inhabitants of the property. HomeBuyer Reports and Building Surveys both highlight where asbestos is found. Asbestos is found by surveyors in materials such as, but not restricted to, textured coatings, roof materials, sheet materials and insulation.
Want more information?
We'll call you At a time thaT suits you.