We are a Multi Award Winning Firm of Chartered Valuation Surveyors, who carry out Help-to Buy Valuations on a National level and have many years' experience in delivering this type of Valuation report.
We are Rated Excellent and we have over 1500 genuine reviews!
Our Valuations are provided efficiently, by experts who are local to your area. Our Surveyors know the true Value of your Home and therefore you can feel safe in the knowledge that your valuation will be correct. We have Surveyors based throughout the country, who are employed directly by us and therefore our Standards are very high.
Here are a few details on the Help to Buy Scheme:
When will I need Gold Crest Surveyors for a Help to Buy valuation?
When you are selling a property that you bought using a Help to Buy Equity Loan, or you are ready to pay back the loan whilst staying where you are, you will need to obtain a valuation from us. Therefore, keep our number safe if you are not ready yet and Gold Crest will be here for you when you need us.
To apply in the first place, you will require a deposit at least 5% of the price of the home.
You will have full ownership of your property. The Government has an equity share up of to 20% (up to 40% in London), until you repay the equity loan.
Main Benefit: The scheme enables people to buy a new-build property with a small deposit.
Some main requirements: Homebuyers must contribute 80% of the home's price, for example, with a minimum 5% deposit and up to 75% mortgage. In London, homebuyers must contribute at least 60% of the home's price.
We are Regulated by RICS and we are Qualified to carry out Help to Buy Valuations.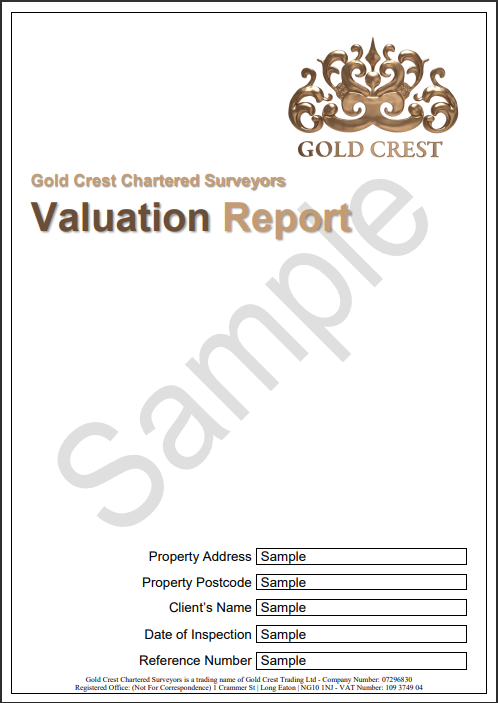 Valuation Report Sample
For our Valuation prices, please use our Instant price form below, or call our central office line on 01332 678416.